Welcome to Sin City Knit Shop's
Online Store
The best little knit shop in Las Vegas
8826 S Eastern Ave., Suite 110, Las Vegas, Nevada 89123
702-641-0210

We welcome you to visit our new shop in our new location. We promise a warm welcome, and invite to sit and knit, great yarns, books, patterns and notions.

We offer a helping hand for those fix it issues from our professional staff and a good time. Come on in, there is a seat at the table just for you. We make your crafting dreams come true.

Sin City Knit's "Online Shop"
We are making available our local hand dyed yarns through our new online shop:
Sin City Yarn…Tink Yarn…Berry Patch Yarn & JACKPOT BARGAINS.

You will think you have hit the jackpot when you shop this department of our online shop. Excellent savings on great products!

Domestic sales only at this time.

Shipping on Tuesdays and Fridays. Call the shop with questions. 702-641-0210

Sin City Crochet MOB
Meets 6 and 20th of September 12-4pm On the 6th is Tunisian for those that missed the class. Kit is $8. Cost is $40 for the month or $20 each session.
DID YOU PURCHASE THIS PATTERN
AND YARN?
GOOD NEWS
September 3 part class for $20 Sat, Sept 12th
(get started)
Sat, Sept 19th
Sat, Sept 26th
2-3pm each session
You can do it with help & guidance working the special short row sections. Class Limit 6
Pick a pattern, choose the yarn, make the project… NOW WHAT?
Some projects need to be blocked to finish your hard work. SCKS is now offering "BLOCK TIME" Come in the shop and we will work with you to learn how to steam block your project. Schedule a time for only $10 an hour. We will teach you how and work along with you.
Note: If you would like to have your project blocked for you, please come in for an estimate.
Shop Hours
Monday-Saturday 10am-4pm
Closed Sundays
(except for special groups)



Want to learn to knit or Crochet?
Schedule your private time.
1 hour for beginners
$20 an hour.
Call 702-641-0210
Sin City Super Stars
2nd & 4th Sundays every month
Dates for September
Sunday, Sept 13th noon-4pm
Sunday, Sept 27th noon-4pm

Fee for 8 hours is unbelievable! (8 hours for the price of 2) This club is almost full. Please act quickly to reserve a space. Super Stars is designed to learn more about knitting with new techniques, new pattern stitches, knit to fit garments, and so much more.

Please call for more information and speak to Barbara or Debbi 702-641-0210 We will send out a reminder email a few days before the Stars meet.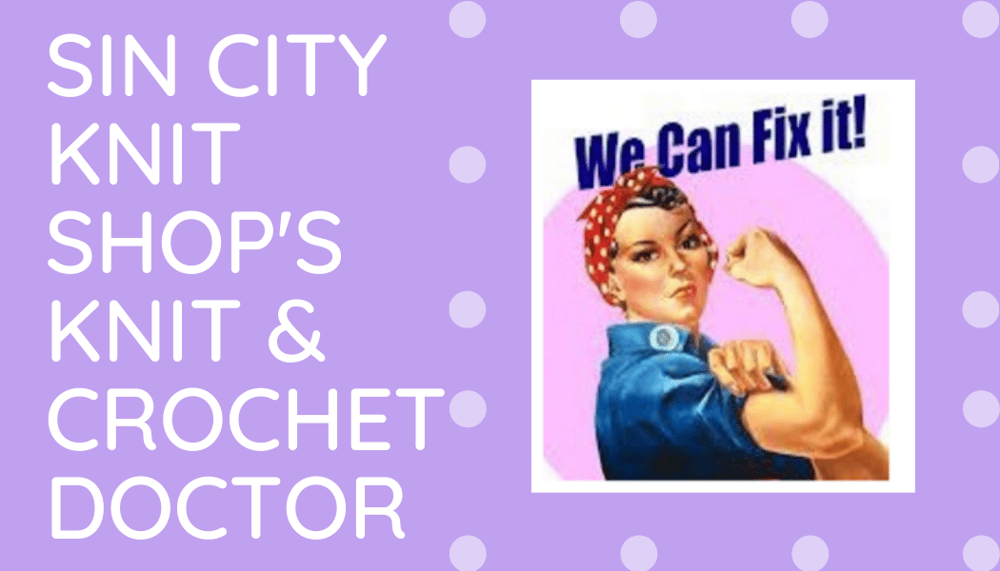 Knit and Crochet Dr
We offer quick fixes
Tuesday 10-2
Saturday 10-11
15 minutes…$5 Anything over 15 minutes, Please schedule a private session
Call 702-641-0210